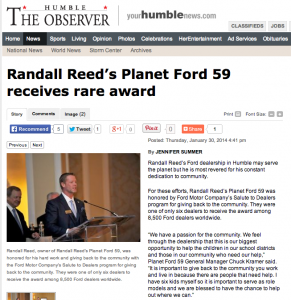 Randall Reed, owner of Planet Ford- Spring, and Word Class Automotive Group, is making headlines again for his many contributions to the community. Last week, Mr. Reed received a very rare honor from Ford Motor Co., the Salute to Dealers award. This annual award is only given to six dealers worldwide.  Below is one of many wonderful articles we would like to share that has been written about Mr. Reed, our communities and this amazing honor.
Below are highlights from The Humble Observer: 
Randall Reed's Ford dealership in Humble may serve the planet but he is most revered for his constant dedication to community.
 For these efforts, Randall Reed's Planet Ford 59 was honored by Ford Motor Company's Salute to Dealers program for giving back to the community. They were one of only six dealers to receive the award among 8,500 Ford dealers worldwide.
"We have a passion for the community. We feel through the dealership that this is our biggest opportunity to help the children in our school districts and those in our community who need our help," Planet Ford 59 General Manager Chuck Kramer said. "It is important to give back to the community you work and live in because there are people that need help. I have six kids myself so it is important to serve as role models and we are blessed to have the chance to help out where we can."
The Salute to Dealers awards were launched in 2001 to demonstrate Ford's commitment to its thousands of dealer principals who step beyond their showroom doors to make a difference.
 A painted portrait of each honoree including Reed features a montage of philanthropic and volunteer activities that led to the award. Duplicates of the portraits will join a Salute to Dealers display in the lobby of Ford World Headquarters in Dearborn, Michigan.
Randall Reed's Planet Ford 59 donates more than $150,000 annually to the local Humble/Kingwood area community.
Dealership staff contributes much more than money, investing time and manpower to charitable causes that include the following beneficiaries Humble Independent School District, Village Learning Center, Memorial Hermann Project Mammogram, Northeast Hospital Foundation, FamilyTime Crisis and Counseling Center, MOSAIC Program and Best Buddies Program.
They also recently donated a Ford Explorer SUV to the Humble ISD MOSAIC which is a program that serves students with special needs between the ages of 18 and 22 focusing on bridging the gap and skills needed for the post secondary world.  Click here to read the rest of the story.
Our team at Planet Ford in Spring (serving greater Houston, Spring, Conroe, and Cypress) are very proud to be part of such an honorable and truly caring, family-owned automotive organization. When you need automotive assistance, we are here to help. Randall Reed's Planet Ford- Spring is located at 20403 I-45. Log on anytime to www.planetford45.com.