Many of the staff here at Randall Reed's Planet Ford in Spring (also serving The Woodlands, Conroe, Aldine, and greater Houston area) love the idea of a beautiful new 2014 F-150. We think the King Ranch is undoubtedly one of the best, but did you know that it's Jimmy Fallon truck of choice? Check out this short "Ask Jimmy" video to hear Jimmy's thoughts about the truck for yourself, and see why Jimmy needs your help!
Like Jimmy, we agree that the F-150 King Ranch is "awesome"! After selecting the "Blue Jeans" paint color and accompanying "Pale Adobe" lower panels, Mr. Fallon was quite amused that his new F-150 resembled someone wearing a blue shirt and khakis. However, the enamoring paint job is just the beginning of a long list of features that Mr. Fallon is loving about his brand new Ford truck.
Jimmy was also quick to mention that the "sound system is killer". With a 700-watt, 10-speaker Sony Sound System, it's evident why it earned Jimmy's praise. The acoustically-positioned, fine-tuned speakers deliver an audio experience, allowing the driver to fully enjoy their favorite tunes as they cruise around in their F-150 King Ranch. The F-150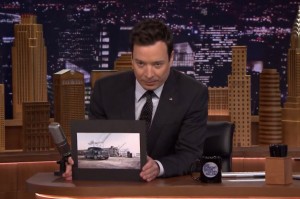 King Ranch also comes standard with HD radio, auxiliary audio input and satellite radio capability. Don't forget, Jimmy needs your help creating a custom country playlist to best leverage these features!
Jimmy was also a fan of the SYNC and MyFord Touch systems standard on the 2014 F-150 King Ranch. Ford's SYNC technology powered by Microsoft is incredible software that Ford has integrated into their line-up of vehicles. It's designed to create a safe driving atmosphere in our technology driven society. Once your smartphone is paired to your SYNC system with MyFord, you are able to stream music, make phone calls, receive text messages plus many more features.
Did we mention all the interior features that Jimmy loves? No buttons to push or levers to pull if you want ore cargo space. Simply use one hand to fold up the mechanically articulating rear seats against the back of the cab. With additional minor features like a heated steering wheel, heated/cooled front seats, and adjustable pedals, the F-150 King Ranch managed to grab Jimmy's attention in his quest for a pick-up.
Get a F-150 King Ranch just like Jimmy's at Randall Reed's Planet Ford in Spring. Stop by our newly-renovated dealership where our award-winning staff is standing by to assist you with all of your car-buying needs! You can find us just off I-45, or you can visit us online by heading over to www.PlanetFord45.com. See you soon!