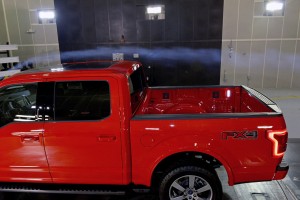 We all know the storied legacy of the Ford F-150. Well, the Ford team has been hard at work building on past success of the F-150, and their efforts are apparent in the all-new 2015 F-150. Not only does this new model maintain the rugged, tough exterior of past F-150s, but it has also seen drastic increases in aerodynamic efficiency.
Engineers and designs of the F-150 had quite the daunting task ahead of them; it's difficult to make improvements to the world's most popular pickup truck. Nevertheless, they buckled down to create an aerodynamic, fuel-efficient design without sacrificing the rugged idiosyncrasies of Ford trucks. With bold contours and squared paneling, the all-new 2015 is built to last while reducing your trips to the pump.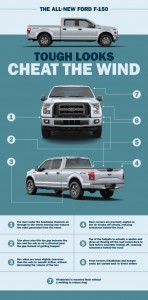 "The truck's sharp, boxy shape gives it a tough appearance, but actually the key to the design is aerodynamic efficiency – getting the most out of the shape," said Brad Richards, Ford F-150 exterior design manager. "We made F-150 look tough and capable, while also reducing wind resistance."
According to Ford, testing clay models allowed designers to see exactly where they could improve, including:
Flush-mounted windshield eliminates need for molding that would disrupt smooth airflow
Tailgate top is designed to act as a spoiler, giving air that flows off the roof a place to land before smoothly trailing off, reducing turbulence behind the truck
Cargo box is narrower than the cab, with no reduction in box volume, which enhances airflow, while a trim piece prevents air from getting trapped between cab and box
Rear corners including taillamps are precisely angled so air breaks off cleanly, reducing turbulence behind the truck
The duct under the headlamp channels air through to the wheel housing and reduces the wake generated from the wheel.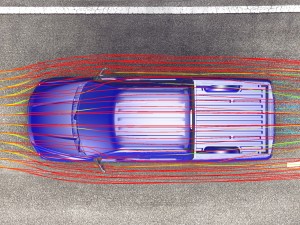 With dropped beltline styling around the headlamps and taillamps, the beveled angles and edges pop even more. "The shapes, lines, angles and motifs are much stronger on the all-new F-150, and the chiseled edges convey toughness," said Richards. "The hallmark beltline along the outside mirrors is the strongest piece of Built Ford Tough DNA. That's inspired by heavy equipment such as cranes and bulldozers. It looks good, but it also improves driver visibility."
Our team can't wait to get a hold of these awesome new trucks! Stay tuned to our blog for the latest updates on the 2015 F-150 and other Ford models. Stop by the Planet Ford dealership in Spring (also serving Conroe, The Woodlands, and the greater Houston area) or visit us online at www.PlanetFord45.com!