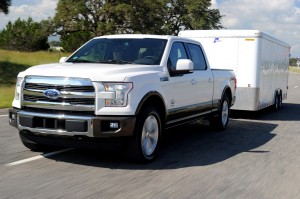 When Ford announced the new 2015 Ford F-150 would be made from the same stuff you drink your soda from, many questioned how well aluminum would work. Well, Ford has proven that the company's trucks still work as hard and can play as hard as ever. Ford touted that the newly designed truck would set new standards, and now it has.
This article from Car & Driver seems to agree. According to Ford, the new F-150 will be able to tow up to 12,200 pounds and haul up to 3300 pounds in the bed. The latter figure is particularly impressive, as the Chevrolet Silverado and Ram 1500 models can officially haul just 2270 and 1900 pounds in their beds. The F-150's trailering figure bests the Ram's top tow rating of 10,650 pounds and squeaks by the Chevrolet Silverado 1500's max trailer weight of 12,000 pounds.
In fact, Ford's recent efforts to follow proper SAE-recommended testing practices provide a more calculated approach to arriving at the aforementioned numbers. These incredible rating shows that the aluminum body, which features high strength military grade aluminum, is a suitable body replacement for trucks.
We can't wait for these beautiful, rugged trucks to hit the market. Be on the lookout for them later this year. In the meantime, stop by Randall Reed's Planet Ford in Spring for a look at 2014 F-150s or any other fave Ford model. See you soon!