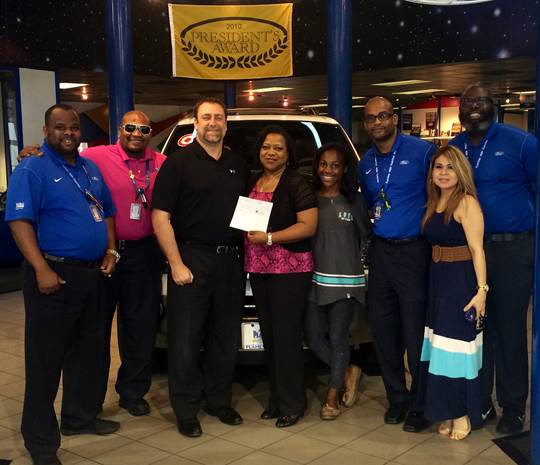 Today, Planet Ford in Spring delivered a check for nearly $6,000 to Westfield High School. The money was earned during a Ford Drive One 4 UR School fundraising event held March 7th at school.
"We want to thank the community, students and staff for coming out to help make this event a big success for the kids," said Shawn Burns, GM/OP of Planet Ford on I-45. "We had a lot of fun test driving new Fords and answering questions from our community."
Planet Ford partnered with Westfield High School for the event that benefited Westfield's S.A.N.E. Senior Organization, a senior students association. S.A.N.E. hosted Drive One to help raise money for Prom 2015.  A total of 298 test drives. At $20 per drive donated by Ford, the students raised $5,960!
Ford's Drive One 4 UR School program was developed as a fun, engaging way to help high schools raise money to support various programs and extracurricular activities.  Ford dealerships partner with local schools to conduct the fundraising test-drive events.  Participants get to drive a new Ford, such as the F-150, Fusion, Mustang or Focus, among others.  For every valid test drive completed, Ford donates $20 to the high school  – up to $6,000.
To learn more about Planet Ford in Spring (serving Houston, The Woodlands, Aldine, Cypress, Conroe), take the short drive on I-45 to the Louetta exit or log on anytime to www.PlanetFord45.com. We also invite you to visit our all-new, world's largest Quick Lane Tire and Auto Center.