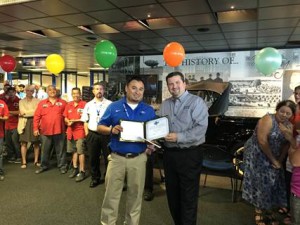 At Planet Ford and Planet Lincoln in Spring (serving The Woodlands, Houston, Aldine, Conroe, Cypress) we are lucky to have an amazing, award-winning team. We like to pause each month to celebrate their birthdays and anniversaries!
Our celebration also recognized the Planet Ford/Planet Lincoln Employee of the Month, and Employee Excellence. A big thank you and congratulations to Sean Currie for 21 years of service. Our Employee of the Month is Jose Chavez.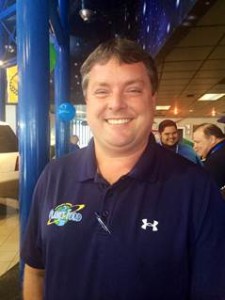 Shawn Burns, the General Manager/Operating Partner of Planet Ford presented a several of employees with an Employee Excellence Award in recognition of outstanding performance in customer satisfaction, sales, and training.  These employees have exceeded the highest levels of performance in their area of expertise.  Great job to all of the employees honored with this award!
May Anniversaries Celebrated:
Sean Currie
Daniel Trevino
George Vinery
Jesse Williams
Amanda Holiday
Randall Crooks
Rogelio Gonzales
David Moran
Delia Ramos
Aaron Smith
Ted Matthews
Reynaldo Flores
Karen Ferguson
Anibal Hernandez
Ken Lazard
Marco Moreno
Alex Chavarria
Roosevelt Woods, Jr.
Erika Tristan
Jaime Arenas
Amber Davila
Devin Duoto
Carlos Duca
May Birthdays Celebrated:
Tom Dejohn
Stephen Tucker
Arthur Wooten
Randall Crooks
Morieta Treat
David Schultz
Dawn Eaton
Michael Murfin
Vance Deer
Vickie Pscion
Denise Kelley
David Sherman
Esivel Gonzalez
Tran Keels
Tomas Castillo, Jr.
Derick Brown
Luis Gonzalez
Ean Mizell
Evan Cotter
Nazaret Cruz
Tina Ivy
Michael Knight
Adam Perez