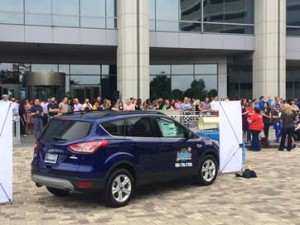 At Planet Ford and Planet Lincoln in Spring, TX (serving The Woodlands, Houston, Cypress, Conroe), we love supporting and working with our community. This week, Planet Ford and Planet Lincoln spent the day at Anadarko to help support their efforts to raise money for the United Way of Greater Houston.
Since 1988, Anadarko has donated more than $25.5 million dollars through its annual giving campaign. In fact, it has been the 4th largest donor from 2007-2014 in Greater Houston and #1 in Montgomery County.
For the first time in campaign history, Anadarko added a new car raffle drawing to a myriad of specials events being offered during their fundraising campaign. This drawing was dubbed "Key To Giving!" The Reed family and Shawn Burns, General Manager/Operating Partner of Planet Ford, were proud to donate a 2-year lease for a 2016 Ford Escape. Anadarko employees had an opportunity to buy a raffle ticket over the past two weeks for a chance to win. With the Ford Escape being a donation that means 100% of the money raised from ticket sales benefits the United Way.
And the Winner Is!
Dwayne Seawall is the winner of the Escape. Our Planet Ford team looks forward to awarding him with his new vehicle.
Also, as part of the "Key To Giving!" Planet Lincoln hosted a Driven To Give event helping Anadarko raise even more funds for the United Way. This fun and unique FUNdraising event was held onsite at Anadarko for its employees to experience our 2016 luxury vehicle lineup. Lincoln Motor Company pays $20 for each eligible test drive and an additional $20 for a bonus test drive in a Navigator.
The Planet dealerships conducted over 90 test drives yesterday and most of their employees took advantage of the bonus drive. Potentially, Anadarko could receive over $3,400 for United Way. This definitely was an AWESOME event and highly successful for Anadarko!
We are truly honored to have been able to work with Anadarko and support the efforts of its employees to raise money for the United Way of Greater Houston. To learn more about Planet Ford, visit www.PlanetFord45.com. You can visit Planet Lincolns site at www.PlanetLincoln.com.