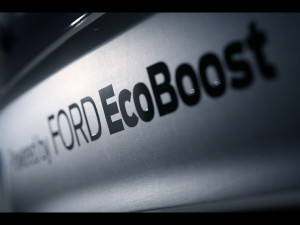 Ford has been promoting its EcoBoost technology for quite some time now. However, if you're not sure exactly what it is, but you find yourself daydreaming about a vehicle that offers the performance of a larger engine and the fuel economy of a smaller one, then you've come to the right place.
Is the EcoBoost for You?
Picture this: You're driving a car, SUV or truck with an engine that is powerful but not at all fuel-efficient. Or, the horsepower and torque figures are not as impressive as you would like, but consumption ratings are good. Maybe you wish your vehicle had the performance of a large displacement eight-cylinder engine, but with the fuel economy numbers of a six-cylinder? Or that your six had the consumption ratings of a four? That's where the EcoBoost comes in.
Back in 2013, Autotrader wrote an article about Ford's EcoBoost engines and described it as a combination of turbocharging and direct injection that results in improved fuel economy without having to sacrifice power. The technology is offered with almost all Ford models, including the popular F-150 pickup truck.
Turbocharging and Direct Injection
It's important to note that EcoBoost engines are turbocharged. Compared to conventional engines, the turbocharger allows for greater air entry. In general, Autotrader says that more air plus more fuel helps increase the potency of an engine. However, when it comes to Ford's EcoBoost unit, the turbocharged aspect of the engine will add power, but it will not considerably lower fuel economy as one might expect.
Direct injection is also featured, which is basically a form of fuel injection. The process of sending fuel into the engine is much simpler than traditional ways, and a benefit includes greater efficiency.
Conclusion
Consumer Reports, in testing the new 2015 Ford F-150 XLT Supercrew, found that the model's new and smaller engine (a 2.7-liter turbo V-6 unit) is not only more affordable than the same truck equipped with a larger and more powerful 3.5-liter turbo V-6, but that it is also more fuel-efficient, and slightly faster, too. What's more, the smaller engine bested bigger units from competitors in acceleration tests, making the 2.7-liter EcoBoost F-150 quicker than rivals such as the Chevy Silverado V-8 and Ram V-8.
Visit your Planet Ford dealership in Houston and test drive a car, SUV or truck sporting the American automaker's EcoBoost technology.