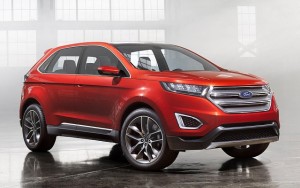 The Ford Edge, a well-equipped five-passenger crossover SUV, was recently updated with a fresh design and new turbocharged engine offerings. For 2016, the American automaker continues to enhance the desirability of its vehicle by introducing yet another new feature to the list: adaptive steering.
Ford Adaptive Steering
You can now expect the 2016 Ford Edge SUV to be easier to maneuver and more fun to drive, thanks to the manufacturer's new adaptive steering technology. Power steering has been offered in vehicles for decades; the fixed ratio between the number of turns of the steering wheel and how much the front wheels will rotate makes maneuvering the car easier than it once was. However, Ford's adaptive steering feature takes this concept to the next level.
What the automaker has done to make the job less demanding is simple: Ford's new system is able to adjust the ratio in order to make the process of turning the wheel easier at low speeds, since fewer turns are required. This means that maneuvering in tight areas or even moving into a parking space should be a more pleasant experience. Once you make your way up to highway speeds, the system is designed so that the 2016 Edge SUV will react more smoothly to steering input.
For those of you seeking a more detailed description of the technology, Slash Gears says "The system features a precision actuator inside the steering wheel," and that element has a motor and electronic gearing system "that can add to or take away from driver steering inputs."
Overall, all you need to know is this: The technology makes Ford's crossover SUV more maneuverable, and the feature comes equipped with the 2016 Edge Sport, and it is optional on the Titanium trim.
Updated Sync 3
In addition to adaptive steering, the new Edge also gets an upgraded version of the carmaker's Sync 3 connectivity system featuring enhanced voice recognition that responds more naturally to your voice, so you don't have to sound robotic when you make a call or send a text message. What's more, the interface is new and easier to manage.
Conclusion
The 2016 Edge crossover SUV is up against the Nissan Murano, Hyundai Santa Fe Sport and Toyota Venza. It's currently available as a 2015 model at Planet Ford dealerships. However, you should have access to the new version later this year.