Congratulations to this years recipients of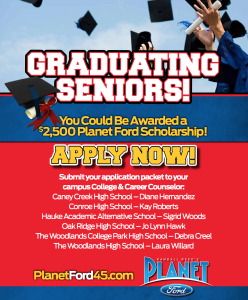 the Planet Ford in Spring, TX scholarships. The Randall Reed family and Planet Ford team in Spring, Texas are excited to announce five scholarship winners.
The scholarship awards are open to graduating high school seniors with a cumulative GPA of 3.75 or higher. One student applicant from each participating school is eligible to win a $2,500 award. The winners were selected by a Planet Ford panel based on a students grades, school and community involvement and goals for the future.
"There were so many amazing candidates this year," said Shawn Burns, General Manager/Operating Partner of Planet Ford in Spring. "It was a real challenge for our team to narrow it down to a handful of winners. It also speaks to how special those selected truly are."
Randall Reed, owner of Planet Ford in Spring and World Class Auto Group agreed. "These  are some extraordinary kids. We are so happy to help encourage and support their future endevors. They are going to go far in life," he said.
Scholarship winners include:
Conroe High School: Julia Meyer; attending Texas A & M University for Biomedical Sciences
Oak Ridge High School:  Katie James; attending Texas A & M University for English
The Woodlands College Park High School:  Hailey Rogers; attending Georgia Institute of Technology for Chemical Engineering
The Woodlands High School:  Matthew McClellan; attending the University of Texas at Austin for Chemical Engineering
Caney Creek High School:  Olivia Wren; attending the University of Houston for Business.
Congratulation to all of this year's amazing winners of the Planet Ford in Spring scholarship. To learn more about Planet Ford on I-45 (serving The Woodlands, Adline, Cypress, Conroe), visit www.PlanetFord45.com.