A huge congratulations to Stephanie Luu of Wunsche High School. She is the recipient of the $5,000 Randall Reed – Planet Ford Scholarship Award.  This morning, Shawn Burns, Planet Ford's General Manager/Operating Partner; Aaron Smith, Planet GSM; Brad Stapp, Operations Dir., John
Dvorak, GM of Planet Lincoln; and many other team members gathered at the high school to award and celebrate this remarkable student.
Surrounded by family, friends and Wunsche High School team members, Stephanie excitedly accepted her scholarship that she received after filling out and application and writing an essay that helped the panel select the bright and motivated student for this honor.
The scholarship awards are open to graduating high school seniors with a cumulative GPA of 3.75 or higher. One student applicant from each participating school is eligible to win a $2,500 award. The winners were selected by a Planet Ford panel based on a students grades, school and community involvement and goals for the future.
"There were so many amazing candidates this year," said Shawn Burns, General Manager/Operating Partner of Planet Ford in Spring. "It was a real challenge for our team to choose, but when we read her application, her story and saw what she wanted to accomplish, she was a clear choice for this scholarship.
Randall Reed, owner of Planet Ford in Spring and World Class Auto Group agrees. "Stephanie is going to go far in life and help a lot of people alone the way. We are so happy to help encourage and support her in accomplishing her dreams," he said.
Stephanie is an excellent student but also very active in in extracurricular and community activities. After encountering a sever health scare with few funds available for treatment, she was able to locate a service to help her through Harris County.  She already had an interest in the medical field.  She was worried that she would have to give that option up when she fell ill.  Thankfully, though the help medical experts, she has been treated and it further fueled her passion for the medical profession.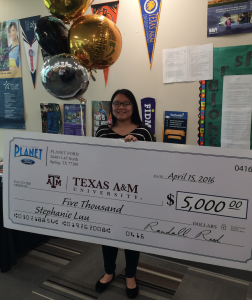 Stephanie will be attending Texas A&M where she will being her education on the path to becoming a surgical nurse.  She hoped one day to work at MD Anderson Cancer Center.  Ten years from now, her goal is to open a free clinic to allow people to have access to healthcare when needed — a service she is thankful was afforded to her when she needed it most.
Congratulation to Stephanie and her family.  Randall Reed, Shawn Burns and our entire team at Planet Ford in Spring celebrate all of your hard work and are thrilled to support you as you move forward onto a great future.
To learn more about Planet Ford on I-45 (serving The Woodlands, Adline, Cypress, Conroe), visit www.PlanetFord45.com.