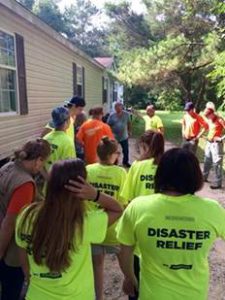 Spring weather in Texas can be dangerous. The recent weather has impacted many in our community leaving them with damaged homes and vehicles.
In May, Planet Ford in Spring, Texas teamed up with more than 300 community members to volunteer with the Disaster Relief Unit organized by Samaritan's Purse and The Woodlands Church.
Together, we provided free demolition and cleanup services to homeowners impacted by the flooding in our area who have little or no insurance. It was hard work for our team and rewarding to be able to pitch in and help those recovering after the wave of terrible storms.
If you're in need of automotive assistance, contact Planet Ford in Spring to find out how we can help with auto repair and new vehicles. www.PlanetFord45.com