Ranked in U.S. News & World Reports as one of the top 10 hybrids and top 10 wagons, it is easy to see why so many people love the 2014 C-MAX. With the growing popularity of hybrid and electric vehicles in the United States, there are even more reasons to love C-MAX at Randall Reed's Planet Ford in Spring!
When shopping for hybrids, there are more choices than ever. You can choose from vehicles such as: the Ford C-Max Hybrid, Ford Fusion Hybrid, Toyota Camry Hybrid, Toyota Prius, Chevrolet Bolt, or the Honda Civic Hybrid — just to name a few.  With so many options, it can be hard to find all of the desired eco-features, amenities and features in one car. Let's start with saving at the pump. Can you imagine getting 45 MPG/City* Yes, 45 MPG in the city!
Power & Handling
The C-Max Hybrid has a four-cylinder engine and an electric motor. U.S. News reports that test drivers think it provides strong acceleration for a hybrid. A continuously variable transmission (CVT) is standard. According to Ford, the 2014 C-Max Hybrid can travel at speeds up to 85 miles per hour on electric power alone. Most test drivers reported to U.S. News that the Ford C-Max Hybrid has agile handling for a hybrid and a precise steering system that provides good feedback. Critics also think the C-Max Hybrid's brakes are strong.
Interior Matters
Reviewers agree that the 2014 C-Max Hybrid has a well-constructed interior with an appealing design and high-quality materials. They think there is plenty of head- and legroom for four tall passengers to sit comfortably. Standard features on the C-Max Hybrid include dual-zone automatic climate control, a 110-volt power outlet, a six-speaker audio system, a USB port, Bluetooth phone connectivity and SYNC, which allows you to control the vehicle's communications and entertainment system using voice commands.
Optional features include a MyFord Touch infotainment system and active park assist, which helps steer the car into a parallel spot. Some have reported that the C-Max offers one of the best active park assist feature available.
While the C-MAX first appeared in the early 2000's, it has only recently become popular in the United States. Introduced to the U.S. market as a hybrid-only vehicle line, the C-MAX hybrid debuted at the 2011 North American International Auto Show. The 2014 C-MAX is offered in a Hybrid and Hybrid Energi models, the latter of which includes features like a MyFord Mobile App access, LED illuminated charging port, 2.0L hybrid electric powertrain and 7.6kW lithium ion battery.
Ford aims to continue their C-MAX endeavors with the introduction of their C-MAX Solar Energi concept car earlier this year. The Solar Energi aims to deliver all the benefits of a plug-in hybrid vehicle without the reliance of a charging port or electrical source. The C-MAX Solar Energi features a roof topped with solar panels, on top of which lies a "solar concentrator lens" that works to intensify solar rays. Utilization of renewable solar energy makes the C-MAX Solar Energi an incredibly unique vehicle, decreasing greenhouse emissions by 4 metric tons per vehicle. Not to mention that a full charge will have a total range of up to 620 miles, up to 21 of which are pure electric powered.
Ford Motor Company has been hard at work preparing for the impending fuel efficiency standard deadline, which states that automobile manufacturers must achieve fuel economy equivalents of 54.5 mpg for both light-duty trucks and cars by Model Year 2025. Back in 2008, the Bush administration formed the Advanced Technology Vehicle Manufacturing loan program, which gave $25 billion to the U.S. Department of Energy. This program awarded Ford a $5.9 billion loan for purposes of researching and developing cleaner vehicle technologies. Here are a couple of the key projects that Ford has been developing to create a cleaner, greener future.
Material Research and Design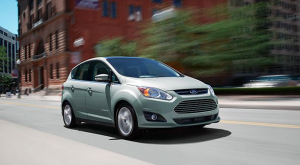 Ford has been relentless in their efforts to achieve a cleaner, more efficient line of vehicles, going as far as to review and analyze the materials used in the vehicle production that may be resulting in product inefficiencies. One popular example is showcased in the material composition of Ford's all-new 2015 F-150, set to be released later in 2014. The 2015 F-150 will feature a revamped body that made entirely of an aluminum alloy, reducing the overall weight of the vehicle by over 700 pounds! This significant weight reduction maintains strength and reliability while increasing fuel efficiency.
Ford has also been researching, designing and implementing wood fibers in place of artificially manufactured fiberglass on the 2014 Lincoln MKX. These fibers, created by Ford in conjunction with Weyerhaeuser and Johnson Controls, are created using all-natural fibers that are harvested from trees. These fibers provide Ford with a natural and renewable material that also happens to be lighter that it's fiberglass counterpart. This results in more efficient tree-harvesting processes in addition to increased fuel efficiency from the slight weight reduction.
Above & Beyond
As worldwide pollution emissions continue to increase, breakthrough technologies in material composition, electric engines and solar-powered energy concept continue to push Ford forward. For a look at Ford's current hybrid vehicle line, cruise on down to the dealership.
Planet Ford in Spring is one of the dealerships selected to offer the C-MAX Energi. The C-MAX Hybrid gets an amazing gas mileage, but C-MAX Energi plug-in hybrid model delivers the best combined MPGe in its class, with an EPA-estimated rating of 108 city/92 hwy/100 combined.*
With free charging station at our dealership, it's even easier to save on fuel costs! That's right… At Planet Ford we let you charge up your electric car for free. It's just one more way to show that Planet Ford cares about you long after the sale, as well as our community and our environment.
To learn more about the C-MAX, head over to Planet Ford in Spring, just off I-45! You can also check out our extensive inventory by visiting www.PlanetFord45.com!
 *Based on EPA estimates.
Sources:
https://media.ford.com/content/fordmedia/fna/us/en/news/2014/01/02/let-the-sun-in–ford-c-max-solar-energi-concept-goes-off-the-gri.html
http://www.fool.com/investing/general/2014/04/06/is-ford-motor-companys-59-billion-bet-beating-tesl.aspx#.U0LBDa1dWR8
http://www.ford.com/cars/cmax/